Saudi visas come in a variety of forms, including permanent family visas in Saudi Arabia 2021. A family visa in Saudi Arabia may be awarded to an immediate family member of a valid resident or citizen of the Kingdom of Saudi Arabia. Subsequently, if you are seeking permanent residency, knowing how to apply for a family visa in KSA is essential.
In this article, we will be talking about how to apply for a family visa in KSA and the process to succeed in this task. Having a family visa in Saudi Arabia can be beneficial for you and your relatives; therefore, understanding the permanent family visa in Saudi Arabia in 2016 is essential as it is the same now.
How to apply for a family visa in KSA?
Post-application process
Apply for a permanent family visa through Istiqdam
Cancel permanent family visa
How can Saudi Company Formation?
How to apply for a family visa in KSA?

1. Eligibility Criteria
The following requirements must be satisfied before an ex-pat can apply for a family permanent visa in Saudi Arabia:
When requesting a Saudi residence visa for a family, the Iqama validity should not be shorter than three months.
The individual must have a valid profession.
You can only apply for a permanent dependent visa in Saudi Arabia for your spouse and kids. Accordingly, read this carefully:

The visa cannot be issued for sons over the age of 18.
Only one wife may apply for the visa at a time.
In addition, your mother and father, cannot apply for a family visa for Saudi Arabia.

Also, they must pay SR 3,500 to provide a GOSI Certificate with the minimum salary.
2. Pay the fee
As of 2021 the family visit visa, Saudi Arabia 2021 fees are SR 2,000.
3. Apply for a permanent family visa online
Only those with a few specific vocations are eligible to apply for the permanent family visa online. Therefore, here, you can learn how to apply for a family visa in KSA. According to our experience, foreign nationals in the following occupations have been successful in obtaining a visa through a web application. Thus, even if your profession is different, if you are a driver, for example, you can still give it a shot for free.
Doctors with registration in the Saudi Commission for Health Specialists.
Engineers with registration in the Saudi Council of Engineers.
Auditors and accountants with registration in the SOCPA.
This is the process for how to apply for a family visa in Saudi Arabia, let us see:
Step one
Firstly, log into your Absher account and then click the "My Services" button.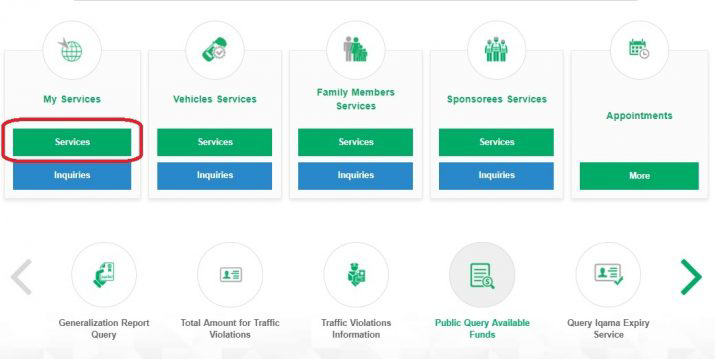 Step two
Then, select the "Expatriates Services" tab.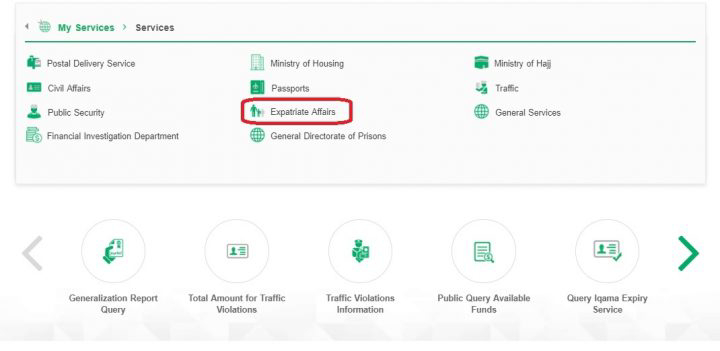 Step three
Subsequently, after reading the instructions, you must click on the "New Family Visa Application" to proceed to the next phase in the permanent family visa application process in KSA.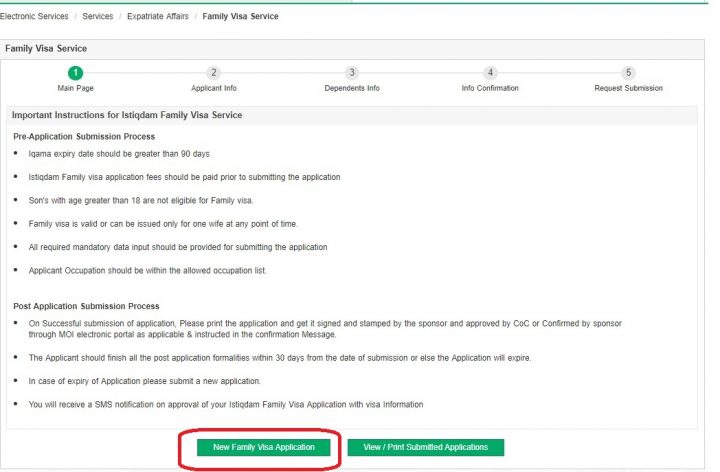 Step four
Therefore, your complete information, including your Full Name, Iqama Number, Passport Number, Passport Expiration Date, Religion, Cell Phone number, Nationality, Iqama Expiration Date, Passport Issue Date, Passport Issue Location, and Iqama Profession, will then show on a new page. Additionally, it will include details on your sponsor. Then, just double-check the information the MOI System has retrieved before clicking the "Apply for Family Visa" tab.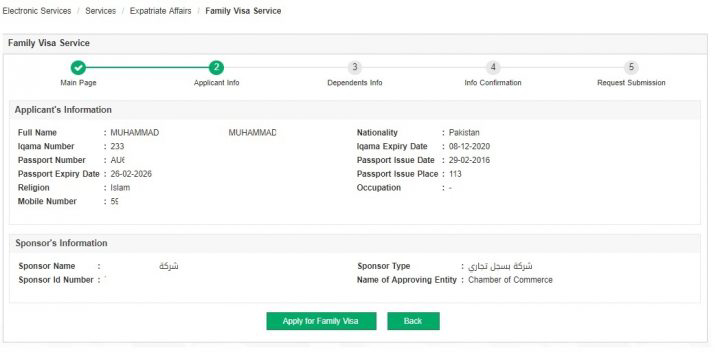 Step five
Subsequently, this application form will show up on your computer screen if you are qualified to submit an online application for a permanent family visa in Saudi Arabia in 2022. Next, you must add details, including:
Your monthly salary is in SAR.
Level of education.
Date of when you finished your last year of the highest education.
Major objects studied.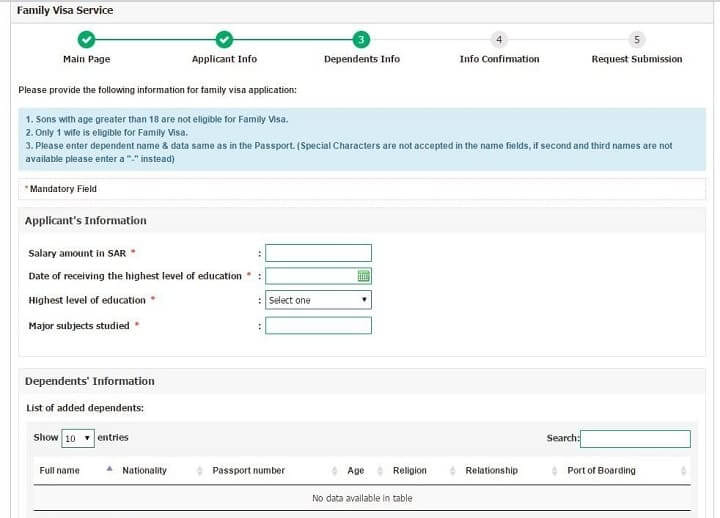 Step six
Lastly, after completing this form, you must add the dependents' names, passport numbers, ages, religions, and relationships to you as well as the port of boarding.
The location in which your family's visa will be stamped on their passport is referred to as the port of boarding.
If the dependent's second and third names are not accessible, simply type "-" in the second and third names.
The name must be entered exactly as it appears on the passport.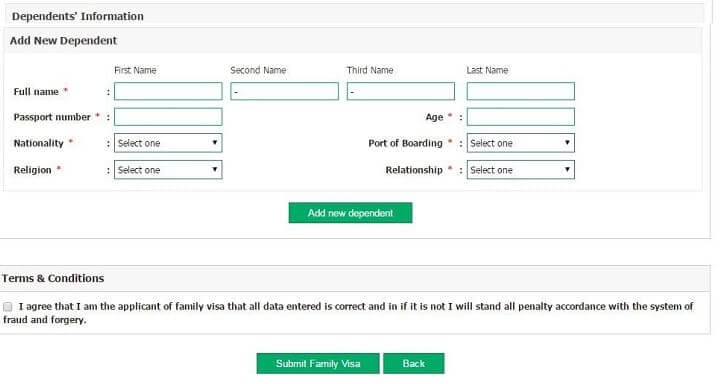 Post-application process
The Absher system will provide you the opportunity to print the form after you submit it. Consequently, you must sign it and provide it to your company's human resources department to sign and stamp.
The business will attest the application for SR 30 online through the Chamber of Commerce within 30 days of its filing.
Following the online attestation, you must return to the chamber of business to begin the request within 30 days of its filing against the SR 30 charge.
The application status will change to "Approved," and you will now be able to see the visa number. When your Istiqdam family visa application is approved, you will receive an SMS with visa information.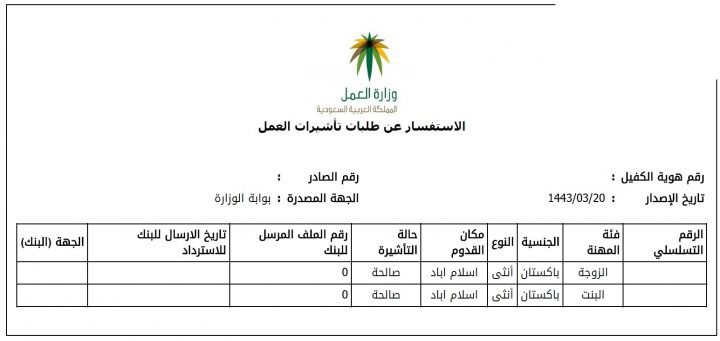 Finally, you can submit the form for visa processing to your home country once you have the visa number.
What are the reasons behind the rejection of the online family visa application?
After filling out your permanent family visa in Saudi Arabia 2020 online form, you may receive a message that says "We cannot process your application because it does not satisfy Istiqdam e-services company guidelines." Then, the system will prompt you to attend the Istiqdam office if your profession disqualifies you from applying for a permanent family visa and display the following notice.

"Your sponsor is not included on the family visa application; please visit Istiqdam for further details." This pop-up notification shows that you are being notified that the employer's business permit, chamber of commerce register, or Maktab Amal subscription has reached its expiration date.
Apply for a permanent family visa through Istiqdam
Now that you know how to apply for a family visa in KSA, it is time to learn how to apply for a family visa in KSA with an Istiqdam form. Subsequently, the Istiqdam is the second way of applying for a lifelong family visa in Saudi Arabia.
There are many occasions wherein  You will have to arrange a meeting with Istiqdam to apply for a permanent Family Visa or a housemaid visa in Saudi Arabia.
You must make an Istiqdam consultation in the city where the chamber of commerce has certified your documents first.
Necessary documents for Istiqdam application
Istiqdam application for a permanent visa with the business seal and legal signature.
Copy of the Iqama.
Duplicate the Saudi visa on your passport.
Copy of valid passport of every visa applicant.
Certified degree certificate that matches your Iqama profession from MOFA and the Saudi Embassy of your home country.
Attested marriage certificate from MOFA and the Saudi Embassy of your home country.
Birth certificate from your children, certified by the MOFA and Saudi Embassy.
Salary certificate with the stamp of the Chamber of Commerce.
GOSI Certificate that shows salary and GOSI return.
Professional certification for engineers, accountants, doctors, and auditors. And technicians.
Commercial registration certificate of the business you are working in.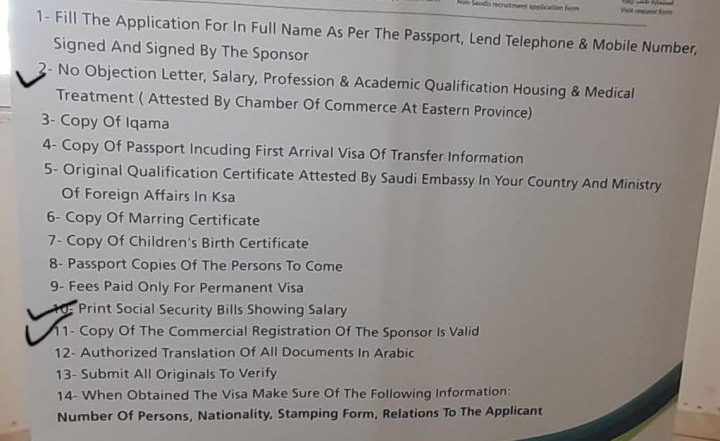 Visit the Istiqdam
Organize all the paperwork necessary to apply for a permanent family visa in Saudi Arabia in a file; then, go to the Istiqdam office when the time comes. In addition, it is important to note that, you must visit the Istiqdam Jawazat Office in the Rehab District if you reside in Jeddah.
Yellow slip
Consequently, you will be called back to the window after around 30 minutes, and if all goes according to plan, you will be granted a yellow slip.
Verify the identities on the Yellow Slip to make sure they are accurate.
If any of the information on the yellow slip is incorrect, you have three working days to return to Istiqdam and make the necessary corrections.
The Istiqdam's Yellow Slip or permanent family visa is valid for 1 Hijri Year, or 354 or 355 days, starting on the day it is issued. Therefore, it implies that you must now complete the visa application in your nation within one Hijri year.
Post-application process
It is okay to start stamping once the vis starts to emerge on the EnjazIT platform. Therefore, to complete the task, your family may hire an agent. Lastly, there is no need to consult the MOFA website for permanent family visa information.
Etimad has been permitted by the Saudi government to work in various nations, including Pakistan.
There is no requirement to alter the permanent family visa if a child is born after Saudi Arabia has been awarded it. Consequently, simply give your representative the mother's passport and the newborn baby's documents, and the Saudi Embassy will stamp them.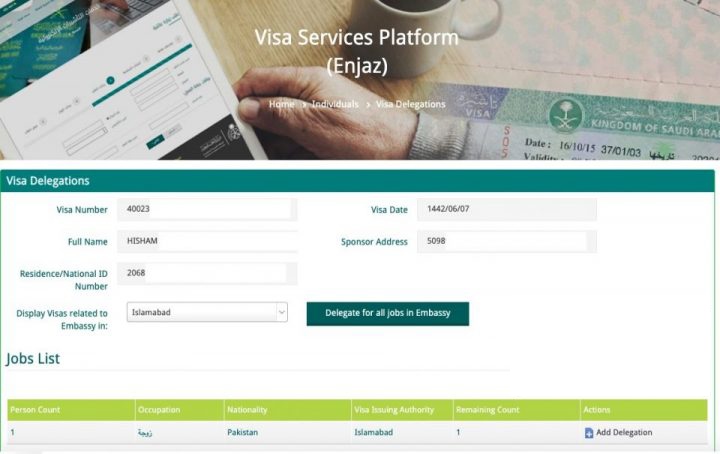 Cancel permanent family visa
You can always cancel the family visa before it is stamped on the passport and receive a refund of SR 2,000 for your Istiqdam family visa application fees if you decide not to take your family to Saudi Arabia. Then, to do so you will need the following documents:
In a letter to the Jawazat officer, your sponsor should state why you need to revoke your longtime family visa. The Chamber of Commerce also needs to vouch for this letter.
Iqama in its original form and a copy.
A copy and the original passport.
The authentic Yellow Slip or a duplicate of the Istiqdam-issued visa.
Visit the Istiqdam
Firstly, you must now return to the Istiqdam location that you went to when you applied for the permanent family visa.
Then, you would be given a form to complete. If you do not speak Arabic, you can ask someone who does for assistance or take it outside and have some SR 15 agents fill it out.
Consequently, your permanent family visa will be revoked if you give the form and the aforementioned papers to the visa officer.
Therefore, the original payment account will receive a complete reimbursement of the SR 2,000 visa cost.
Lastly, refunds for the permanent family visa take about 1.5 months to come.
How can Saudi Company Formation help you?
Saudi Company Formation can help you to apply for a family visa in KSA. Hence, we will do the most to give you the support you need through this process and more. In addition, we can also help you with other processes, including taxes, trade licenses, e-invoices, and more.
With our company, you can obtain the following services:

Do you want to learn more about how to apply for a family visa in KSA? Contact us now! You can send us an email at contact@saudicompanyformation.com or call us at +971 43 316 688. We will give you the insights you need about this matter.
Are you looking for open UAE job vacancies? We recommend you go to thetalenpoint.com. The Talent Point is a platform where people can register, upload their resumes, and look for opportunities according to their qualifications. Therefore, if you want to know more about it, you can send your doubts over to contact@thetalentpoint.com.